Main content starts here, tab to start navigating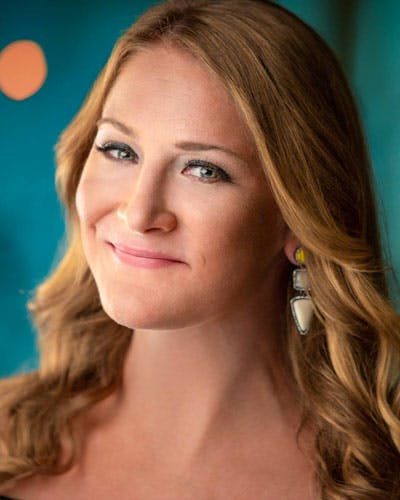 Tricia Auld
Tricia Auld is a Boston-based comedian who's performed in some of New England's region's most charming/intimidating bars, theaters, and clubs. She's a staple of Laugh Boston, Nick's Comedy Stop, and The Rockwell, among other venues. Tricia combines soul-baring anecdotes about living single, sexual misadventures, and her unconventional upbringing with an articulate irreverence that wouldn't be out of place in a Chelsea Handler or Whitney Cummings special. She's been producing a showcase every first Thursday at Club Cafe for two years.
She first broke into Boston's comedy scene with a blog called NeverBeenMoreSingle, to the delight of salacious businessmen and to the dismay of their girlfriends. Tricia is the funniest friend in your brunch group, the bridesmaid who can't help plunging into splits at the reception and enticing groomsmen or two. Her act offers insights into growing up as one of five daughters, pursuing the highs of sex and the lure of the nightlife, and inevitably, grappling with nauseating challenges the impending hangover holds. She's the girl who will hold back your hair and crack a joke so funny you'll barely notice you're puking at her show. No seriously, she has held an audience member's hair back after her show.
Much of Tricia's comedy style developed while she was growing up in the chaos of a large family. With four sisters comes a lot of fun, drama, love, disappointments, teasing, and support. Through her experiences, she is able to connect and relate to her audiences. Her journey in comedy was covered by DigBoston, whose cover she graced in June 2015. Her relatable material and alluring stage presence have made her a must-see in New England and beyond. You will leave shows with Tricia Auld wanting to work your way into her friend group one Titos Soda with Lemon at a time.