Main content starts here, tab to start navigating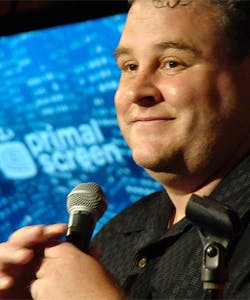 Steve Bjork
He's come a long way from the nights of frying up mozzarella sticks in the back room of an obscure comedy club in the Boston suburbs. He was a college student, using that part-time job to study the craft of stand-up comedy by catching glimpses of the performers on stage.
Today, Stephen Bjork is a polished veteran of the highly competitive Boston comedy scene with crisscrossing tours of the country under his belt. His material is intelligent, sometimes absurd, and always accessible; but first and foremost it is funny. What truly sets him apart from the teeming crowd of today's comedians is that you never have to ask Bjork to work 'clean.' While so many comedians think working clean means simply omitting the F-bomb, Bjork takes everyday life and turns it upside down in a way that every demographic in any given audience can enjoy. And because he does it so well, no one ever misses the filth. A longtime favorite in nightclubs and colleges around the country, Bjork enjoys equal success in corporate settings.
From the supermarket to recess, to family life, and even to cannibalism, Bjork crafts hysterical anecdotes and observations from everyday life. Want to know how to liven up an elevator ride or make the most out of your time on line at the bank? Catch his show and become enlightened.
In addition to hundreds of top echelon industry-respected comedians, Bjork has performed with such luminaries as Dane Cook, Steven Wright, Dom Irrera, Dave Chappelle, Joe Rogan, and Tommy Chong. He has also opened for the legendary musical group The Platters.
Bjork was recently featured in an Olympia Sports commercial. He has performed at all of the major Boston and New England comedy clubs along with The Improv in Las Vegas, NV; Mohegan Sun in CT, Hilarities in Orlando, FL and Cleveland, OH; TSM Comedy Caravan in Louisville, KY; Crackers in Indianapolis, IN, Penguins in Cedar Rapids, IA, and many, many others.