Main content starts here, tab to start navigating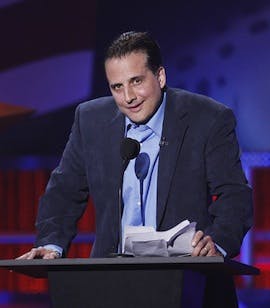 Nick Di Paolo
In this day of watered down comedy, Nick Di Paolo's brutally honest performances remind us of what great stand up should be – funny, socially relevant and a little bit reckless. Nick began his career in his hometown of Boston and two-years later, made the jump to New York, where he found his seething, sarcastic style was welcomed with open arms by New York audiences.
Dubbed, the comic's comic by his contemporaries, Nick's range has allowed him to perform on shows as tame as 'The Tonight Show,' yet as edgy as HBO's 'Young Comedians Special', 'Late Night with David Letterman' and Conan O' Brien. He was twice nominated for an Emmy for his writing on 'The Chris Rock Show.' He has also had three half hour stand up specials of his own on Comedy Central, was one of the stars on 'Tough Crowd with Colin Quinn' and a stand out on many Comedy Central Roasts. Not limited to stand-up and writing, he has had a guest starring roles on "Lucky Louie,' 'The Sopranos' and many sitcoms as well as in films including Artie Lange's 'Beer League.' A critic for the Winnipeg Press said it best when he described Nick as "Gentle as a starved wolverine and as predictable as a tipsy-hop through a minefield, Nick Di Paolo is an experience constrained only slightly by the demands of stand up comedy."
His strong political opinions have been heard on FNC's Hannity, Red Eye, Fox, and Friends as well as CNN's Joy Behar. His razor wit also allows him to sub for Dennis Miller as well as Dan Patrick. He is a favorite on both Howard Stern and Opie and Anthony and hosted his own show on New York's 92.3 Free FM. Hide the women and children …here comes Nick Di Paolo.