Main content starts here, tab to start navigating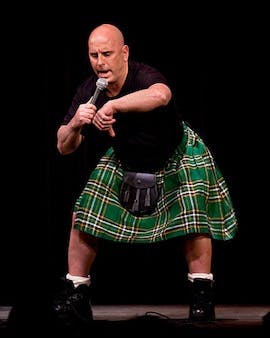 Mike McCarthy
The History of the Comedy Barbarian. In 1987 At the age of nineteen, Mike McCarthy first took the stage at Boston's legendary comedy connection. Within a year he had won the wbru ..funniest man in Rhode island contest.. and shortly thereafter was chosen to appear on the Showtime comedy club network. Touring up and down the east coast from Montreal to the Bahamas, Michael worked on honing his craft to razor-sharp perfection. his explosive brand of humor and frenetic pace quickly earned him a reputation as a crowd slayer, and the colorful alias he still carries today ..the comedy barbarian.
On stage, Mike pushes the envelope every night with material that covers weird sex, to drug and alcohol abuse. his raucous no holds barred act never fails to get the crowd fired up. Although sometimes billed as an adult act, Michael doesn't offend but tries to play on the uptight attitude that is instilled in our society. I'm just trying to save the world with beer, ganja, and really good dick jokes.. he laughs.
With over seventeen years of experience under his belt, and now at the height of his comedic powers, Michael hits the stage like a titan and does not relent until the entire audience is under his spell laughing at things they never thought they would. Some comics make you laugh, Mike McCarthy will make you laugh till you cry. Don't miss this high energy, balls to the walls comedy experience….. JUST REMEMBER TO FASTEN YOUR SEATBELTS!!!!!!!
https://myspace.com/thecomedybarbarian