Main content starts here, tab to start navigating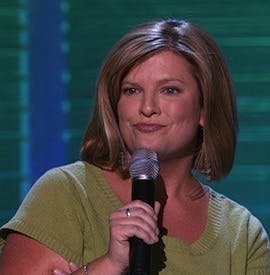 Kelly MacFarland
Kelly has an extensive and well-rounded resume including comedy clubs, theaters, colleges, and several television appearances. She has opened for Melissa Etheridge and LeAnn Rimes at both the Cape Cod Melody Tent and South Shore Music Circus. Kelly has appeared on Comedy Central's "Premium Blend." You may recognize her from season one of NBC's hit reality series, "The Biggest Loser." Kelly has worked alongside Fred Willard as part of the rambunctious news team of "TV Network" on Turner Entertainment's broadband site, SuperDeluxe.com.
Kelly is currently touring clubs and colleges across the country and has just returned from entertaining our US troops overseas. Kelly headlined the 2009 Boston Women in Comedy Festival, was the first runner up in the 2009 Boston Comedy Festival and voted Best of the Fest 2010 Aspen Rooftop Comedy Festival.
Kelly is currently writing a clever collection of short stories based on her stand up and her life. Kelly is also an experienced wellness speaker, coaching individuals about self-acceptance. Sharing her life experiences in the unique way that only she can, Kelly leaves audiences pleasantly surprised by her candor. She captivates the crowd with her charm, and her refreshing yet playful point of view makes her irresistible.