Saturday, June 18, 2022 Tom Cotter from America's Got Talent
June 17, 2022 06:00 PM until June 17, 2022 11:00 PM
With Dan Crohn & Host Tony V
Doors 7:00 pm ~ Show 8:30 pm
Tickets now Available On-line through Eventbrite
Tom Cotter is an American comedian. He has appeared on The Tonight Show with Jay Leno, The Late Late Show and Last Comic Standing. In 2003, Cotter filmed his own half-hour special for Comedy Central. Cotter has won several comedy competitions. In 1994, he won Seattle's International Stand-Up Comedy Competition. He also won the grand prize at the Boston Comedy Festival and was voted Best Stand-Up at the Las Vegas Comedy Festival. Most recently, Cotter appeared on NBC's America's Got Talent and was given a pass to Las Vegas by the shows three judges.
Additionally, Cotter has worked in film, theatre, and television productions and is currently working on an idea for a book.
Cotter is married to Kerri Louise, who is also a notable stand-up comedian. They have worked together on different projects including Two Funny, a reality show on Women's Entertainment Network.
His form of comedy focuses mostly on one-liners and double entredres, such as Extreme sports: Dwarf basketball, a triathlon for chronic smokers, chess for cocaine addicts, large-breasted women's hurdles, and fencing for hemophiliacs. Double entries: As the day started, tension mounted. Tension is my dog. OR This guy cuts me off and starts flashing me, so when he pulled over, I pulled him out of the ambulance and started smacking him. OR My doctor said I should love myself, so I said, "Doc, I'm up to three times a day." Triple entendre: I was happy to see my ex-girlfriend…get hit with a snow-plow. That was kind of weird for me because… I have never driven a snow plow before. What are we teaching our kids: Musical chairs=not sharing, hide-and-seek=stalking, dodgeball=drive-bys, and sleeping beauty=necrophilia.
https://www.youtube.com/user/ComicCotter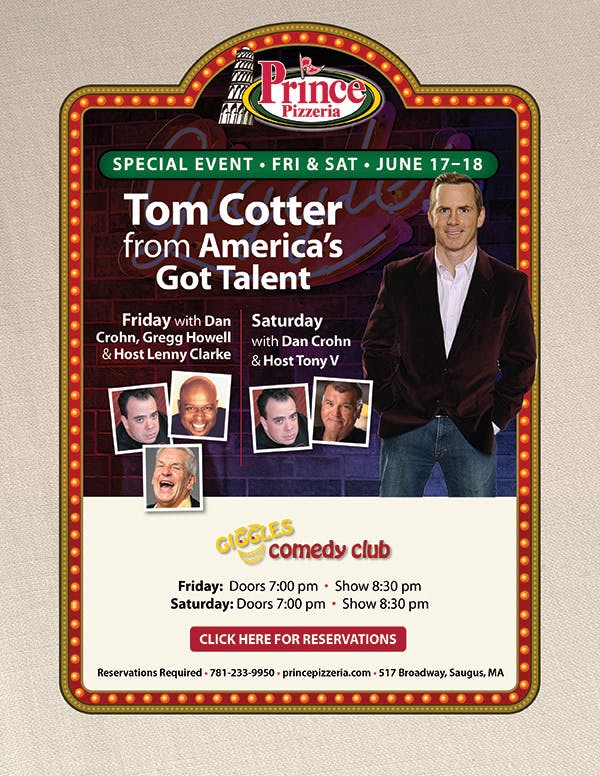 DOWNLOAD PDF Flyer