Friday, July 2, 2021 Jackie Flynn Headlines at Giggles
July 02, 2021 07:00 PM until July 02, 2021 11:30 PM
With Mark Riley & Johnny Pizzi
Doors 7:00pm ~ Show 8:30pm
Jackie Flynn has emerged as one of the funniest and most talked about comedians to come out of Boston. Joining the ranks of Steven Wright, Denis Leary, Lenny Clarke, and Jay Leno. He has quickly parlayed his success as a stand-up to firmly establish himself in the film and television arena.
Early on in his career, Jackie was discovered on stage in Boston by the Farrelly brothers, who have since cast him in back to back roles in "King Pin", "There's Something About Mary", "Me, Myself And Irene" "Shallow Hal" and "Stuck On You", where he played opposite pop-diva Cher.
Fans of the hit show "The King Of Queens", will recognize Jackie from his many appearances on that show, as well as his role alongside the likes of Burt Reynolds, NFL Coach Jimmy Johnson and Jerome Bettis as one of the "Men Of The Square Table" in the hugely popular Miller Lite "Man Law".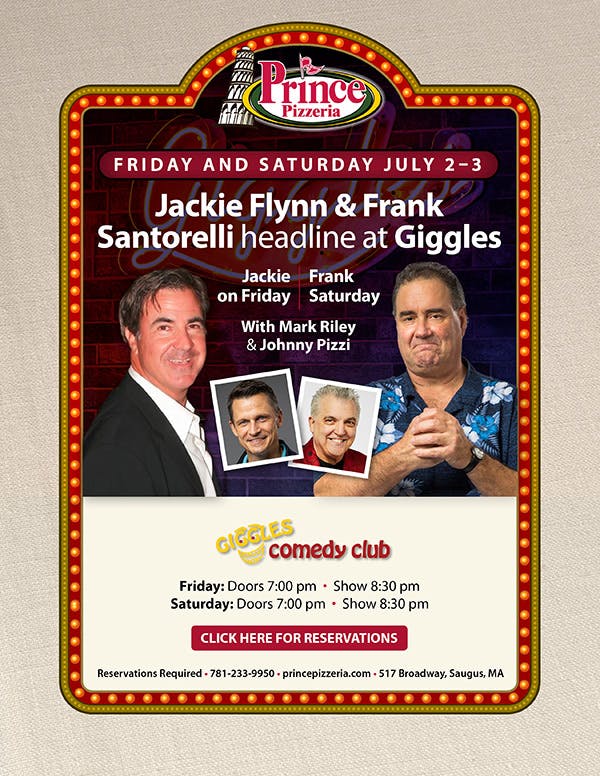 .
DOWNLOAD PDF FLYER